It's best if you never have to, but if you do need to take apart your Xiaomi Redmi Note 4 at least now you have a guide. And as it turns out, it's not that much of a hassle.
Most components (including the aluminum back cover) are not secured by screws so you just need to pry them off. Usually, it's either glue or double-sided tape that holds pieces to the motherboard and the team at FoneArena that disassembled the phone reports it worked just fine after they put it back together.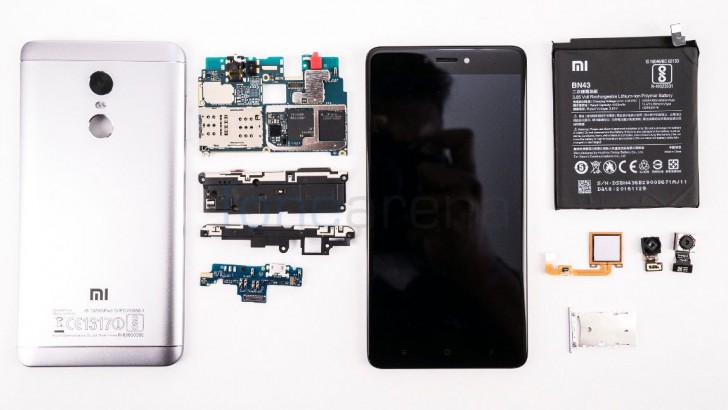 Here's an interesting note - the Redmi Note 4 that is powered by a Snapdragon 625 used a Sony IMX 258 sensor (13MP/1.12µm) while the MediaTek-powered model from China used a Samsung S5K3L8 ISOCELL sensor (13MP/1.12µm).
The Redmi Note 4
What ?
-The Redmi Note 4 is a device by xiaomi which is launched in india .
Why ?
It's popular in India because
It gives some crazy specs .
It falls under price range of 13k which is a normal smartphone budget.
It has 4 GB of ram ~ speed of a supercar ;)
It has 64 GB internal storage ~ Cares what you love store.
Most important one 'The battery ' yeah 4100 Mah ~ it will last 2 days without any problem.
It comes with Snapdragon 625 ~ it's a speedy processor which saves battery and boosts performance.
Beautiful User interface MIUI 8 ~ Lot of people don't consider UI as a important thing but believe me it's the things which makes you fall in love with your phone and makes you smile every time when you do something on it.
These are few superstar specs which is making this devices very popular in india.
Where ?
-You can buy it from Flipkart and Mi India Website.
-And yeah for that you have to be very punctual credit goes to The flash sales